Crete Chania Airport (CHQ)
Available services

- Shared door to door service between Crete Chania Airport and five different zones in Crete. For detailed information click here.

---
Service is only available for flights between 1st April and 31st October!
Useful information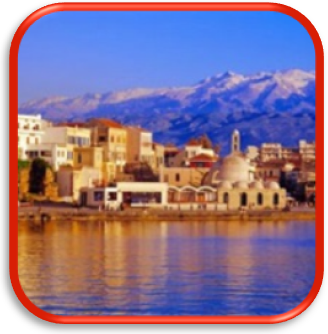 Available areas:
ZONE1: Chania town

ZONE2: Daratso (Chania) / Kato Galtatas / Ag. Apostoli (Chania) / Chrissi Akti / Kalamaki (Chania)*

ZONE3: Platanias (Chania) / Agia Marina (Chania) / Stalos / Stavros / Akrotiri
ZONE4: Adelianos Kampos/Rethymno(Gerani, Platanes)/Sfakaki/Missiria

ZONE5: Kolymbari, Maleme, Gerani (Chania), Kalives

The service is available ONLY TO HOTELS!
*no service to Kalamaki (Tympaki)
Please note some hotels are not accessible by bus, in these cases you will be dropped of/picked up at a central point:

Platanias area: Platanias square, EKO Gas Station
Agia Marina area: Bus stop across Alexandra Beach hotel
Kato Stalos area: CTS Office
Agioi Apostoloi area: Traffic light across SYN.KA Super Market
Chania Town: KTEL bus station (Central public bus station), Agora (Municipal Market of Chania), Alpha Bank at Halidon str. (Pick up point for all the hotels in the old harbor that are not accessible by bus)

Meeting points
Chania Airport:
At the airport our meeting point is in the Arrival's hall.
In the cities of Crete:
In the city the driver will wait at the hotel reception.
Pick-up times
Your transfer from the airport will depart approx. 60 minutes after your flight arrival time.
From the city to the airport your pick-up time is approx.3 hours prior to departure; also depending on the destination.