Israel Ovda Airport (VDA)
Available services
- Shared door-to-door service between Israel Ovda Airport and Eilat, Taba and Aqaba cities. For detailed information click here.
---
Useful information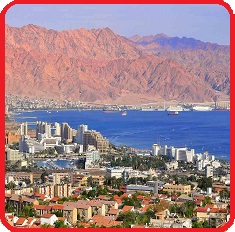 Available areas:
Eilat Resort
Taba and Aqaba - Please note that the transfer fare does not containt the border tax ($65/person)
Please note that border between Israel and Jordan is open daily from 8am to 8pm. Transfer not within this time period is not possible!
Distance between airport and city:
- Eilat Resort: 60 km
- Taba and Aqaba: 80 km
Transfer journey time: 60-150 minutes depending on the destination and the traffic.
Meeting points
Ovda Airport:
Our meeting point at the airport is outside the terminal.

In the cities:
You will be picked up from your Hotel or if there are more hotels situated at the same area, from a central hotel.
Pick-up times
Your pick-up time from the airport is approx. 60 minutes after arrival.
From the city to the airport your pick-up time it approx. 4 hours (Eilat) and 5,5 hours (Taba, Aqaba - due to border crossing delays) prior to your scheduled flight departure time.